For the first time ever, the Houston Astros are World Series champions, after beating the Los Angeles Dodges 5-1 in Game 7 of one of the most exciting Fall Classics in the modern era.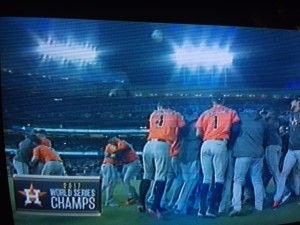 The underdog Astros defied the odds and the experts by beating a Dodger team with more wins (104) than anyone else in baseball. My prediction of the Dodgers in 6 was way off. Looks like I underestimated the grit of the Astros, who overcame Hurricane Harvey in August and a streak of futility dating back to their genesis in 1962.
Only the Cleveland Indians have endured more hardships over the years. The Tribe have been shut out of titles every year since 1948. With the Astros victory, there are just six teams now that have never captured a World Series crown since joining the league: San Diego Padres (1969), Milwaukee Brewers (1970), Texas Rangers (1972), Seattle Mariners (1977), Colorado Rockies (1991), Tampa Bay Rays (1998) and the Washington Nationals (2005). The Nationals and the Mariners are the only two teams that have never even been to the World Series.
Astros center fielder George Springer was named MVP, after tying a World Series record with 5 home runs (along with Reggie Jackson in 1977 and Chase Utley in 2009.) Springer batted .379 with 7 Runs Batted In.
The UCONN product also had 7 extra base hits, the most ever in a World Series.
This Game 7 was one-sided and not as thrilling as others in baseball history. Here's a look at how the other 38 ranked. Spoiler Alert: if you're a Yankee fan you won't want to see what's tops on the list:
Congratulations to the Houston Astros for their historic victory.
Now that the World Series is over, I'll go into my annual hibernation. After all, there are only two seasons in life: Baseball and winter.
In the words of baseball great Rogers Hornsby: "People ask me what I do in winter when there's no baseball. I'll tell you what I do. I stare out the window and wait for spring."