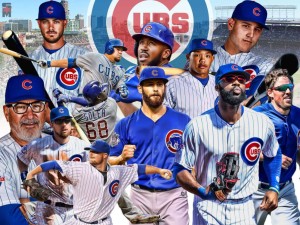 Two fantastic finishes so far, featuring 3-run homers for the Blue Jays and the Giants in wins against the Orioles and Mets, respectively. I'm 2-0 in predictions thus far in postseason play, but maybe that's just Wild Card luck.  Here are my picks for the rest of the playoffs:
American League Division Series (Best of 5 games):
Boston Red Sox over the Cleveland Indians in 3 games.
The Indians have no chance against the Red Sox after losing their #2 starter Carlos Carrasco to a broken hand and #3 starter Danny Salazar to a tendon injury. Making things worse – their ace Corey Kluber is recovering from a quadriceps injury and it's unlikely he can be effective. Meanwhile, the Red Sox will have 22-game winner Rick Porcello (22-4) on the mound for Game 1. And Big Papi is healthy and hungry for a 4th ring in his final season. The Red Sox should sweep 3-0.
Toronto Blue Jays over the Texas Rangers in 5 games.
The Rangers are heavily favored and have home field advantage through the World Series if they advance, plus Cole Hamels (15-5) is one of the best pitchers in baseball, so it's hard to count them out. But I'm going with the Blue Jays because they have the most powerful lineup in baseball. Did you see Edwin Encarnacion's walk-off homer against the Orioles? He hit 42 home runs during the regular season. The guy is clutch.  Josh Donaldson hit 37 round trippers, while Michael Saunders and Troy Tulowitzki each had 24. And Jose (Joey Bats) Bautista smacked 22 over the wall. Pitcher J.A. Happ is a 20-game winner and Aaron Sanchez was 15-2 on the season. The biggest problem for the Jays is that reliever Roberto Osuna is recovering from an arm injury. That could be a game changer, but I'll take my chances on Toronto.
National League Division Series (Best of 5 games):
Chicago Cubs over the San Francisco Giants in 4 games:
Yes I know it's an even year and the Giants have momentum. Champs in 2010, 2012 and 2014. And nobody beats Mad Bum in October. Nobody. I get it. So I'll concede Game 3 to the Giants on Sunday when Bumgarner is on the mound. But the Cubs have great pitching with ERA leader Kyle Hendricks (2.13) – and Game 1 starter Jon Lester was second best in ERA with 2.44. And don't forget Jake Arrieta who led the Majors with a stingy .194 Average Allowed by batters. Arrieta also gave up the fewest hits in MLB – just 6.29 in nine innings. Third on the list was Kyle Hendricks at 6.73. Plus the Cubs lineup is potent with Kris Bryant (39 home runs) and Anthony Rizzo (32 homers).
Los Angeles Dodgers over the Washington Nationals in 5 games:
Washington's woes begin with injuries. Nats pitcher Stephen Strasburg is out with a bad elbow. Worst of all, All Star catcher Wilson Ramos is hurt and won't be suiting up. And Washington's best hitter Daniel Murphy (.347 batting average) is recovering from an upper leg injury. Even if Murphy plays, he won't be 100 percent. The Dodgers  pitching is thin after Clayton Kershaw, but I'll take the Dodgers by default.
American League Division Series (Best of 7):
Toronto over Boston in 7.
National League Division Series (Best of 7):
Cubs over the Dodgers in 5.
WORLD SERIES:
CUBS WIN! CUBS WIN! CUBS WIN!
After 107 seasons of failure, this is finally the Cubs year.
Chicago over Toronto in 5.