It's Opening Day in Major League Baseball, where tens of thousands of fans will flock to the ballpark on April 1, for the start of a new season.They'll enjoy grilled hot dogs and cold beer from the comfort of their stadium seats.
But in Nicaragua, it's a very different story, where baseball is played on fields that look like this one: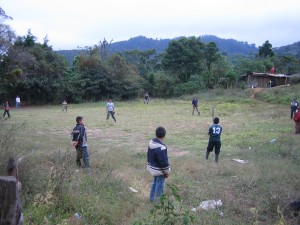 My son Matt snapped this picture and sent it to me from Nicaragua, where he is currently living and building nature preserves for the town of Matagalpa. He saw these kids playing baseball and wrote this letter via e-mail:
"Hey Dad…I think you'll be happy to know I finally was able to get in on a pick-up baseball game this last weekend. I went with a couple friends to a field in a place called Apante and played for about 3 hours.  It was super fun and I'll tell you more about it later but I think it's fair to say that playing a spontaneous game on a makeshift field in the middle of a Central American jungle with 17 other Nicaraguans is one of the more memorable experiences of my life.
I didn't get any hits unfortunately but drew one walk. I was playing center field and made a play or two, including catching a deep, high fly ball.  We have tentative plans to go back again next Sunday and maybe play every weekend if possible."
"How fast was the pitching?" I asked him. "Did you see curveballs and sliders or just fastballs?"
"Nothing too intense." Matt said. "Maybe 60mph.  But it's plenty fast for me.  I think the pitcher was throwing a bit of everything but I wasn't too concerned with identifying the pitches so much as just trying to hit the ball."
"Who did you play?" I wanted to know.
"The group of people was pretty hodgepodge," he said. "It was some older guys, a few athletic guys in their 20s, some younger kids.  We played 8 vs. 8 with no right fielder because there is a giant mound and some boulders in right field.  We used some old wooden bats which was cool.  I think I fit in pretty decently, although I'm definitely out of practice.   Aside from my little stint with your softball team, I haven't really played in over ten years."
"We are talking about real baseball," I asked. "Not softball right?"
"It was hardball," he assured me. "And yes I brought my mitt with me."
Have mitt, will travel. And you never know where a baseball game might break out. Especially in Nicaragua where Dennis Martinez is still idolized as a baseball god.