My dad took me to my very first baseball game at Yankee Stadium, when I was about 5 years old. Since then, I've attended hundreds of games, always with my trusty mitt in hand.
But despite having a glove, I've never caught a batted baseball from any Major League game. Sure I've come close, like the time I went to a friend's birthday party and snagged a practice ball that was part of a pre-game warmup. I was about 9 at the time and the pitcher for the Angels was tossing the ball back and forth with his catcher. One of his pitches caught the catcher by surprise and the ball bounced off his knee, and then dribbled over to my seat by the 3rd base dugout. So I did what any kid would do — I scooped up the ball with my Yankee hat and scampered into the stands as fast as I could because the Angels catcher was running after me. Fortunately, he stopped at the railing, but I hid from him the entire game, while tucking my prized possession deep inside my sweatshirt. It was exciting to evade the catcher, but not quite the same experience I longed for in my dream of  catching an actual batted ball.
Many years later, as an adult, I dove into a row of seats in front of me to scoop up a foul ball from the bat of a River Cats player at Raley Field. I knew then I was ready to catch my first Major League batted ball, but my scoreless streak had only just begun.
Over the years, I went to dozens of A's and Giants games, but still my faithful glove came home empty-handed every time. Out of frustration, I stopped bringing my mitt to games. And then it happened.
In the 4th inning of Sunday's ballgame between the A's and Angels (yes those same  Angels), Oakland's Stephen Vogt stepped to the plate against Tommy Hanson. Vogt, a member of the River Cats just two weeks ago, lifted a lazy pop foul into Section 120, just three rows in front of me. A dozen fans raised their arms, but the ball  landed squarely on the concrete and bounced high into the air with backspin, heading straight towards me. My instincts took over as I reached up with my left hand and snagged the ball bare-handed, while cradling the coveted souvenir with my right hand.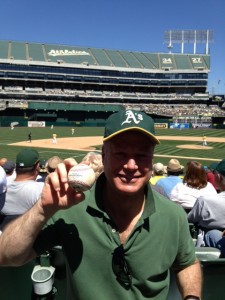 Finally, after decades of frustration, I was now a member of the Foul Ball Club, ironically without the help of my faithful companion, the mitt. I inspected the ball carefully to verify it was indeed an official Major League Baseball, signed by none other than Commissioner Allan H. Selig, better known as Bud Selig. And for just a moment after catching that ball, I felt like I was a 12-year old kid again.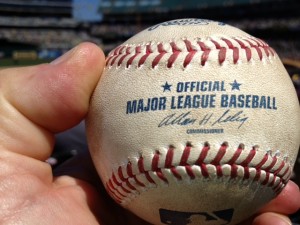 The gift from the baseball gods on my birthday weekend was the best present a kid (at heart) could ever get, but it was about to get better. For the A's rallied from a 5-0 deficit, to win the game 10-6 and send the fans into a frenzy.
What a fantastic finish to a great game I'll never forget. And now I've got a new item to add to the bucket list: Catching a Home Run ball. But for that one I think I'll bring back my trusty mitt!