It's hard to beat the sounds, sights and pageantry of post-season baseball, Oakland A's style. For the playoffs, the Athletics have opened the upper deck of the Coliseum, where on Friday night they captured a crowd of more than 48,000 fans, their biggest in nine years.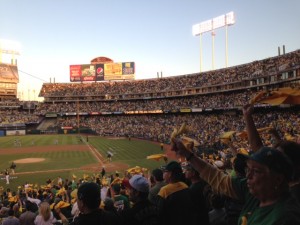 Rodney Hobbs and his 11-year-old son Braden were among the first to arrive at the Coliseum. "We left Sonora, California at about 3:45 this morning and had to drop off the wife at the airport," Rodney told me. Hobbs explained  that he and Braden "decided to go ahead and (we) found some tickets and here we are."
Walter Vita of Sacramento brought his enthusiasm and his A's tattoo to the ballpark. "We left home about 8 o'clock. We were actually second in the gate so you know it was great."
And Nick Giampaoli of Lincoln also left early for the Coliseum. "I got on the road at 9:30 this morning. I've been here since noon and I was one of the very first people to get through the gate and I'm very proud to be an Oakland A's fan."
Tailgating is a strong tradition in Oakland, where fans enjoy grilling and chilling before the game.
I asked A's fan Laurie Jones about the art of pre-gaming. She told me, "My husband is a master barbequer, so we've got tri-tip going, we've got sausages, chips and dip and all kinds of stuff and even adult beverages and it's a good time. I even called in sick."
The fans in Oakland are passionate about the Oakland Athletics, but the core of the team is the Sacramento River Cats. In fact, 21 of the 25 players on the post-season roster played this year in Sacramento. "I'm here from Sacramento to cheer on the River Cats, who are now playing on the Athletics," A's fan Ana Sandoval told me. "I know I'm a huge fan of the River Cats, whether it's Josh Donaldson, Eric Sogard or Stephen Vogt, so it's really great to come out and see them on the big club and playing for a championship this year."
Game 2 starter Sonny Gray is one of those former River Cats. In the A's clubhouse, I asked him to describe how the chemistry of the River Cats helped prepare the A's for the playoffs. "Yeah the chemistry is awesome," Gray told me. "It's amazing and it's made it such an easy transition for me coming up here. The guys have  been awesome from day one. I think it goes to show we have not only a good team, but a good organization."
The A's have a strong family tradition that includes fans like Don and Jason Newman, a father and son team from Sacramento. "The A's are the hottest team right now," Don Newman said. "We wanted to come down and be here for the first game of this division series." His son Jason added, " This playoff game is an exciting experience for us but for me it's spending time with my dad. It's really special to spend time together at an A's game."
Also at Game 1 was lifelong fan Donald Marquez, who wrote a book called "Generation A's Fans" to describe his love affair with the Athletics. Marquez is on the book's cover, as a 4-year-old, in the arms of A's legend Reggie Jackson. "Dad, mom, used to bring me to the games way back when," Marquez told me. "My oldest brother, the entire family used to come and pretty much spend all the major holidays in the bleachers."
The A's won back-to-back-to-back championships from 1972-74. They also captured a World Series title in 1989 when they beat the San Francisco Giants, their cross-Bay rivals. A's fans are hoping a little of that magic will return this year.