On this Father's Day weekend, I am grateful for being a dad and having the opportunity to travel to Nicaragua with my daughter Sarah to visit my son Matt. We spent six days together in a beautiful country that will one day develop into a popular destination for tourism and it's possible that baseball will help lead the way.
Baseball is very popular in Nicaragua and on any visit you'll be sure to see kids playing ball in the city streets and rural fields across the country. Adults follow Major League Baseball with a passion, rooting primarily for the New York Yankees and the Boston Red Sox.
Nicaraguans closely monitor the progress of two fellow countrymen, Everth Cabrera, the shortstop for the San Diego Padres who hails from Nandaime (near Granada); and Winton Lopez, a right handed pitcher for the Colorado Rockies. Lopez is from the city of Leon.
Ballfields are common in the bigger cities like Granada,where young players hope to become Major Leaguers.
We also visited this stadium in Matagalpa:
In Matagalpa, we saw young baseball prospects training with coaches from Nicaragua, Cuba and the Dominican Republic. While there, we were blessed to have the opportunity to donate a dozen new baseballs to the team, to replace the torn up balls they had been using.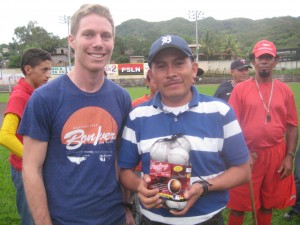 Baseball is a passion for Nicaragua, where Dennis Martinez is still fondly remembered for the Perfect Game he threw on July 18, 1991 for the Montreal Expos against the Los Angeles Dodgers. You can see the entire game, a 2-0 shutout, here:
Here's the box score of the game:
Martinez, a star pitcher for many years with the Baltimore Orioles, is the winningest Hispanic pitcher in the history of Major League Baseball with 245 wins.
He is often referred to as "El Presidente" and is now a bullpen coach with the Houston Astros.
Martinez was the first Nicaraguan player in MLB and his success helped pave the way for future stars including Cabrera and Lopez. Now the focus is on the new generation of players from Central America.  Perhaps one day they will emerge  from the diamonds of Matagalpa, Leon or Granada. The people of Nicaragua will be watching.