Hundreds of baseball fans and many former players cheered Saturday night, as legendary manager Jerry Manuel was inducted into Sacramento's Baseball Hall of Fame. Manuel played ball for Cordova High School under longtime coach Guy Anderson before becoming the number one draft pick for the Detroit Tigers in 1972. His five year Major League career also included stays with the Montreal Expos and San Diego Padres.
But Manuel is perhaps best known as a Major League manager for the Chicago White Sox from 1998 – 2004 and then the New York Mets from 2008 – 2010. He also established the Jerry Manuel Foundation to offer baseball training and schooling to kids who need a fresh start in life.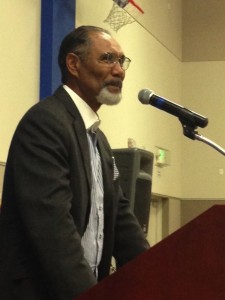 Manuel was the keynote speaker at the La Salle Club's 61st Annual Hall of Fame Dinner at Christian Brothers High School, where he spoke of the importance of giving back to the Sacramento community. "It's a tremendous passion and it's life's lessons," he said.  "I mean we grow in baseball. We love it. It feeds itself . It humbles us, just like regular life."
Manuel was inducted into the Class of 2015, which includes former New York Yankee great Joe Gordon,who later became a  player-manager with the Sacramento Solons. He died in 1978 and was honored posthumously at Saturday night's ceremony. Also honored was Greg Orr, a scout for the New York Yankees and Don Lyle, a scout for the Cleveland Indians.
Six other Sacramento area players were also added to the Hall of Fame: Joe Viega, Manny Perry, Leon Brown, Eddie Cervantes and Randy Zanze.
"It is quite an honor to be connected with this city and to be inducted into such an exclusive class, " Manuel said. "It's tremendous to see all the old players.  Friends that you grew up playing with."
Manuel gave a special shout out to his good friend Leon Lee, another Sacramento baseball Hall of Famer.  "We golf all the time," Manuel said. "I let him win," he added with a smile.
Manuel also paid tribute to his friend and fellow Sacramento Hall of Famer, Dusty Baker. "It's like Dusty said to me, 'When you're from Sacramento, you're a homey.'" Manuel noted, " So I'm going in with some pretty good homeys. We will challenge anybody – right homeys."
Manuel told the crowd he was appreciative of being recognized as one of Sacramento's best in the world of baseball. "To go into the Hall of Fame in baseball in Sacramento," he said. "You're (really) going into something, so thank you."