I've just experienced Baseball Heaven: Four games in 4 days in the Arizona desert. Imagine Cactus League action filled with blue skies, green grass and game temperatures of 90 degrees at first pitch. Somebody please toss me an ice-cold beverage.
It seemed surreal because Willie Mays was there signing autographs. And in my desert dream, Rollie Fingers, Blue Moon Odom, George Foster and Bert Campaneris were also there putting their imprints on cowhide.  And as I awoke, I witnessed current stars compete on the field – guys like Mike Trout, Albert Pujols, Robinson Cano, Jose Abreu, Jason Heyward, Josh Reddick and Jonathan Lucroy.
For my first two days in the desert, I teamed up with my friend Marty Gonzalez, who flew in from the Bay Area.
Together we experienced one of the most bizarre baseball games ever. On Day 1 in the desert, the Oakland A's blew an 8 run lead in the 9th inning, allowing the Seattle Mariners to tie the score at 11. The A's couldn't muster any offense in the bottom of the 9th, so the score remained locked at 11 all.
And then everybody walked off the field.
What? There are no ties in baseball.
Well apparently there are ties in Spring Training – where 9 innings is all you get, no matter the score. Since when did MLB become more like Little League? That's a first for me.
That night, Marty and I feasted in the atmosphere at Don and Charlie's in Scottsdale, where you'll find the best ribs in town and a full diet of signed baseballs, pennants and jerseys from Hall of Famers.
On Day Two, we traveled to Camelback Ranch in Glendale, home of the Chicago White Sox and Los Angeles Dodgers. The complex features 12 practice fields, 5,000 plants and trees including an orange grove and a five-acre lake that separates the Dodgers and White Sox team facilities. At 141 acres, it's the largest venue in the Cactus League.
Marty's favorite feature was the life-size Tommy Lasorda bobblehead: a living shrine to the legendary Dodger manager.
The Dodgers weren't even playing that day, but that didn't stop Marty from paying tribute to the man who guided the Dodgers to four National League pennants and World Series championships in 1981 and 1988.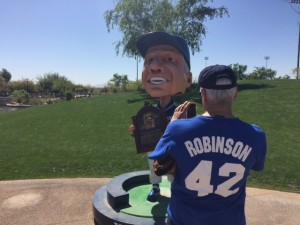 Together we saw the White Sox beat the Cubs 3-2 in a game in which the Northsiders produced only one hit. The White Sox have a much improved lineup, adding Todd Frazier and Austin Jackson to the mix, along with non-roster invites Jimmy Rollins and former Giant Travis Ishikawa. John Danks got the win for the Pale Hose, surrendering no earned runs in five innings pitched. Kyle Hendricks looked sharp for the Cubs, giving up just one earned run in five innings with three strikeouts and no walks.
Marty left that night and my son Matt flew in from Southern California. On Day 3, we discovered Tempe Diablo Stadium, home of the Los Angeles Angels of Anaheim.
Matt took a lot of heat from his friends on social media for wearing a Los Angeles Clippers cap. I couldn't resist joining in the fun.
"Why are you wearing that ugly blue Clippers hat? I asked.
"I've have always liked the Clippers," he explained. "They are my second favorite basketball team after the Sacramento Kings," he said. "Plus all my baseball hats are at home in Sacramento," he added. "Maybe you can bring them next time you come to visit."
Great. I've always wanted to be a hat chauffeur.
The Tempe Diablo Stadium seats 9,315 people and overlooks the scenic Marriott Buttes Resort. The playing surface is Bermuda natural grass. The Angels have been training there since 1993.
In the 3rd inning of our game, the Angels batted around the order with Albert Pujols crushing two home runs in the frame to lead the Halos to a 15-7 victory over the Milwaukee Brewers.
After the game, we headed to Scottsdale for my second visit to Don and Charlie's. The ribeye steak was delicious, but even sweeter was watching Willie Mays sign autographs in the lobby. The Giants Hall of Famer was mobbed by fans who stood in line 30 deep to pay $200 for a signed baseball or $500 for a signed bat. The prices were too steep for me so I took this free picture instead:
Next it was on to Old Town Scottsdale for a look at the historic downtown, which features scenes from the wild, wild West. Scottsdale is also my wife's hometown, so we had to make a visit.
Old Town has a scenic walking path that takes you to the Performing Arts Center, museums and other attractions including a trio of bronze horses.
On Day 4 of our adventure, my wife called to recommend a road trip. "You have to visit Desert Botanical Garden," she said. "You'll love it."
Located in Phoenix not far from the zoo, Desert Botanical Garden is an outdoor museum with five trails that wind through more than 50,000 living plants. Since 1939, the Garden has showcased wildflowers and conservation with a fabulous display of cactus from around the world.
We hiked the desert trails early in the morning to avoid the heat, then headed to Mesa to see the Oakland A's once again, this time hosting the Chicago White Sox. Outfielder/1st Baseman Jerry Sands hit two home runs to lead the Sox to victory 6-2. Sands may benefit from the sudden departure of Adam LaRoche, who retired from baseball because the White Sox wouldn't let him bring his 14-year old son to team workouts every day.
Hey I know it's Spring Training, but what if all 40 players brought their kids to work – it would get crowded in a hurry and somebody would probably get hurt. LaRoche walked away from a $13 million contract to spend exclusive quality time with his family. That's heartwarming but come on Adam – how many businesses can you name that allow employees to bring their kids to work every day? You don't think that might be a distraction to other players who are trying to focus on baseball?
At Hohokam Stadium, it was fun to see former A's players Rollie Fingers, Blue Moon Odom and Bert Campaneris signing autographs, along with George Foster of Cincinnati Reds fame.
Fans were eager to get a signed baseball for $50 a pop, far less than what Willie Mays commands, but then Willie is in a league all by himself.
After the game, Matt and I drove to the airport and said goodbye to our diamonds in the desert. Hopefully we'll be back again next year to visit some different parks in the Cactus League. And who knows – perhaps there's a sequel to Baseball Between Us in the future!