About The Book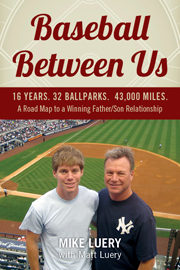 A Father-Son Road Trip
To Every Major League Baseball Park
Baseball Between Us is a true story of a father-son road trip to visit every Major League Baseball stadium in North America – more than thirty ballparks in all. Author Mike Luery – an award-winning television news reporter - and his son Matt embark on a sixteen-year journey that takes them from California – home to baseball's most beautiful park on San Francisco Bay - to the hallowed grounds of Yankee Stadium in New York – and to every big league stadium in between.
This story chronicles the adventures of a father and son team who embrace baseball as their roadmap to figure out the lessons of life. While the Luery boys may be baseball buddies, they are constantly getting into heated arguments over music, food and bedtime that make for some amusing tales about life on the road. Who could imagine, for example, that a teenager's raving rant on rap music could become a living history lesson - about an assassination attempt on President Teddy Roosevelt – but it really happened at their hotel in Milwaukee.
Baseball fans – and there are more than 73 million of them who attended games last year – will love reading how the Luery boys meet (and interview) former Major League All Star Maury Wills of the Los Angeles Dodgers – one of the greatest base stealers in baseball history. The author also conducts taped interviews with Dave Stewart, a World Series Most Valuable Player for the Oakland Athletics - Bernie Williams, a six-time All Star with the New York Yankees – and Ed Sprague Jr., who hit the game-winning home run for the Toronto Blue Jays in the 1992 World Series.
Baseball Between Us is more than just a sports story. This is also a travelogue filled with pictures of players, stadiums and even a hot air balloon trip over a herd of buffalo – but ultimately this is a book about the evolving relationship between father and son. Matt starts the journey at age 16 as a rebellious renegade who loves to defy Dad by calling him "Mike", just to needle him. The teenager has learned how to use "sleeping in" as a weapon against his obsessive-compulsive Dad, whose greatest fear in life is missing the first pitch of a ballgame.
Baseball Between Us is also a story about growing up – and how a young man learns to appreciate his old man's music – even rocking out with Dad to the sounds of Jimi Hendrix at full blast on the car stereo. By the time the road trip is complete, Matt is 21 and living on his own in Los Angeles and enjoys sipping a beer with Dad at the ballpark. Along the way, he's learned the nuances of baseball – everything he'll need to teach his son or daughter one day – from scoring a game to figuring out a pitcher's Earned Run Average.
Baseball Between Us takes you on the road – and behind the scenes to the ballparks that define America's pastime. You'll see why Boston's Fenway Faithful and fans of Chicago's Wrigley Field return year after year to root on their teams. From the diamond gems of baseball stadiums in San Francisco and Pittsburgh – to the baseball pits of Oakland's monstrous coliseum – you'll experience all the parks – and discover why Fargo, North Dakota, a minor league town, is the hidden jewel of the baseball world. Baseball Between Us includes customized "Baseball Bullets" offering highlights of every Major League city – fun things to do for the entire family – even those who are not hard-core baseball fanatics.
This is the ultimate road trip – the story of how a father and son discovered each other on a cross-country journey made possible through the magic of baseball. Armed with a sense of adventure, a love for the game and Dad's maxed out credit cards, they are guided by the secular religion of baseball – a force so powerful it can make grown men cry, simply by a son saying to a father, "Dad, will you play catch with me?" And while they may never agree on wake up calls or bedtime, by the end of the journey, the son will turn to the father and say, "Dad, we will always have baseball between us."